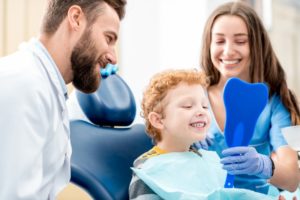 The start of a brand new school year is quickly approaching, and with it, your child's back-to-school checkup with their dentist in Haverhill. Or, at least, it should be. We know that going to the dentist isn't exactly every child's favorite activity, but it's crucial for their oral health. Here are 4 reasons why it's important for your little one to see their dentist before the new school year begins.
1. Get a Cleaning
No matter how well your child brushes and flosses, they need to get their teeth professionally cleaned at least twice a year. This is because plaque, a sticky film of bacteria, constantly builds up despite our best efforts to remove it with our toothbrush. Eventually it hardens into a substance called tartar, which can cause cavities and gum disease if left there. Your dental hygienist can use special tools to painlessly get rid of accumulated plaque and tartar to give your child that lovely clean-mouth feeling.
2. Check Overall Dental Health
The other main purpose of a dental checkup is to make sure your kid's oral health is in great condition. Your dentist will thoroughly examine your child's mouth, including their teeth and gums, to make sure everything is as it should be. If any problems are spotted, the dentist can come up with a personalized treatment plan with your little one's comfort and well-being in mind.
3. Prescribe a Mouthguard for Young Athletes
If your child plays sports, a mouthguard is essential. This durable plastic tray is worn over the teeth to prevent injuries due to impact. Since more than 40 percent of sports injuries are dental, it's important that your little athlete wear a mouthguard. Your dentist can create one designed to fit your child's unique bite and protect their precious smile.
4. Protect Against Cavities with Sealants
Dental sealants are a great way to provide a little extra protection against tooth decay, especially in little kids. Their arms may not be quite long enough to reach the teeth in the back of their mouth, called molars. Molars have lots of nooks and crannies where bits of food and plaque love to build up, which can result in cavities. To combat this, your dentist can place sealants, or a thin plastic-like coating onto the grooves of the molars that keep out bacteria. Most dentists recommend getting sealants when your little one's molars first start coming in around age 6, and again at age 12. There are no negative side effects to getting sealants, and they drastically reduce the risk of decay.
The beginning of the school year is the perfect time to go to the dentist. Book your appointment today to get their mouth cleaned just in time for yearbook pictures.
About the Practice
At Associates in Dental Health in Haverhill, MA, our team of three dentists bring a wide variety of skills and experience to the table. We do our best to treat your issues in the office without having to refer you to an outside specialist. We also offer mouthguards and sealants to protect your little one's precious smile. To book their back-to-school checkup, contact us at (978)-372-6800.