Community Involvement
At Associates in Dental Health of Haverhill, involvement in our community is an integral part of who we are. Our team regularly participates in local, regional, nationwide – and even global – efforts focused on helping our friends and neighbors around the world smile. If you have a particular effort or cause near and dear to your heart, let us know. We're always up for helping any way we can.
Advance through the gallery below to learn more about what we've been up to lately!
Dr Koleini recently completed a mission trip to Guatemala during the July 4th holiday week. Their group of dentists and hygienists was able to see other 2000 patients in 4 days! For many patients, this was their first encounter with a dentist!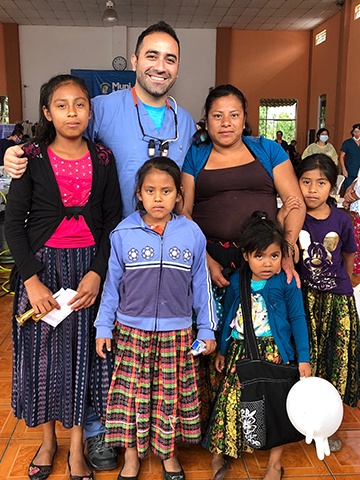 We are happy to be helping Hurricane Harvey victims by donating toothbrushes, toothpaste, and floss in a joint effort with our patient Nicole Foster and Bedford Systems. Care packages are prepared and sent to Austin TX for distribution to those in need.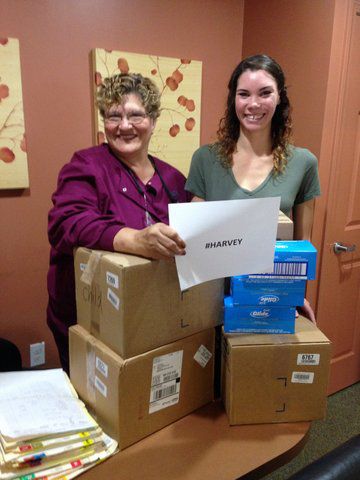 Gail and Gail's sister participated in the 7th Annual St. James 5K Fun Run and 2K Walk where all proceeds go to Emmaus House ,The Crisis Pregnancy Center and The Liz Murphy Open Hand Pantry. Gail was presented with an award for bringing in the most participants over the 7 years! The walk was followed by a wonderful hot breakfast. What a nice community event!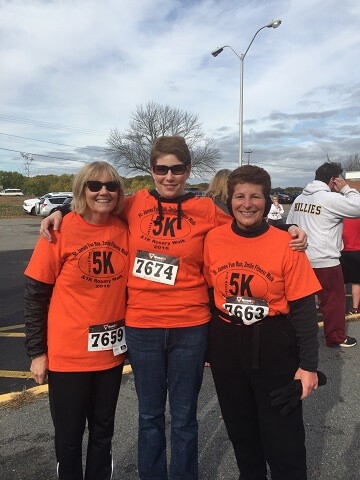 Another successful toy drive!
Emmaus House in Haverhill helps more than 3,000 homeless men, women, and children each year rebuild and restore their lives through emergency shelters, affordable housing, job training, and more. More than 3,500 families in Massachusetts stay in emergency housing every night, with devastating effects on children. We thank all our patients and staff who donated toys for these children this holiday. Accepting the gifts for Emmaus House is Ms. Arntz, Chief Development Officer.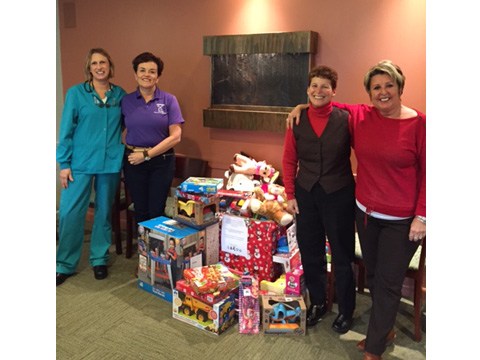 Toothbrushes for the troops.
ADH joined TD Bank's campaign to Support Our Troops for the holidays. Toothbrushes were donated to be sent overseas as part of a holiday gift package. Shown accepting the donation for TD Bank is Ms. Dandurant.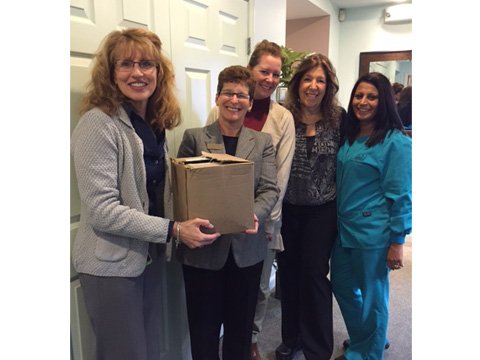 ADH was once again the proud sponsor of the Tom Sager Golf Classic. This event supports initiatives that encourage healthy living and youth development at the Merrimac Valley YMCA.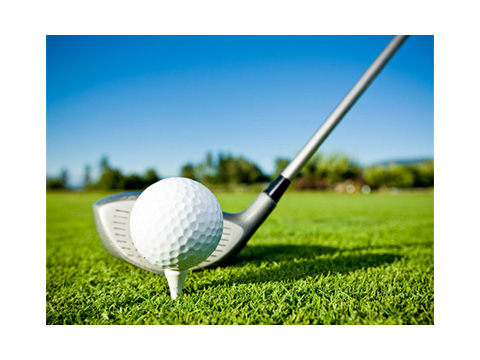 ADH participated in the Haverhill Consentino School Library book drive.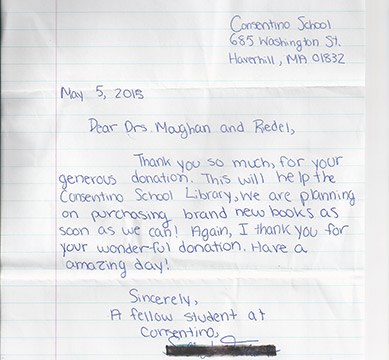 Christmas Toy Drive
Thanks to our patients and staff for their donations to this years charity toy drive. Merry Christmas and Happy Holidays to all!.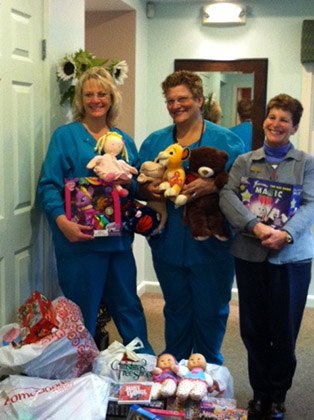 Sharon Celebrates 10 Years at ADH!
The staff joined Sharon in celebrating her 10 year anniversary at a Paint Night Party! Everyone enjoyed showing off their "artistic" side ... it's amazing how different a boat on a lake can look! We had lots of fun celebrating a great staff member.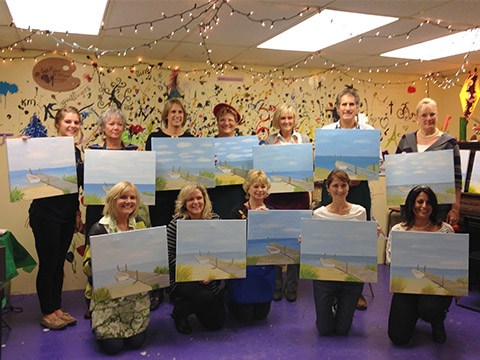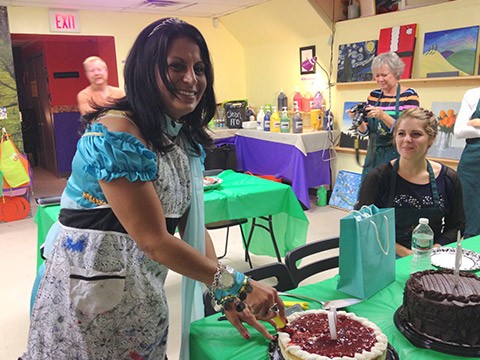 Charity Walk for Emmaus House, Pregnancy Care Center, & Open Hand Pantry
St. James & St. John the Baptist Parishes in Haverhill held their 5th Annual 5K Fun Run and Rosary Walk...it was a beautiful brisk morning for a 2 mile walk and all for a good cause! All funds raised are divided equally between The Emmaus House, The Pregnancy Care Center and The Open Hand Pantry.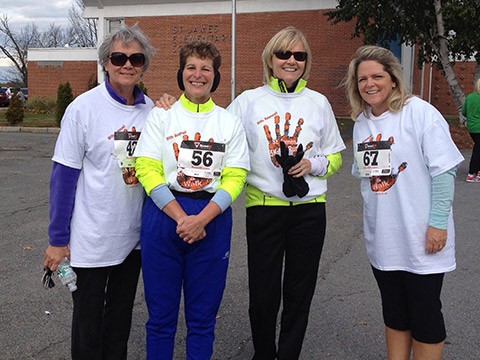 A Celebration of 3 Great Women!
Maureen celebrated 5 years as our Financial Coordinator, Karyn celebrated 10 years as our Dental Hygienist, and Beth celebrated 20 years as our Dental Assistant! How lucky are we to have had such longevity with 3 great women! We all enjoyed a wonderful gourmet 4 course dinner at Pellana's.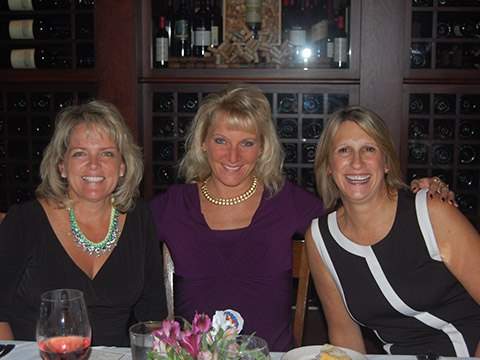 April is Oral Cancer Awareness Month. Did you realize that the incidence of oral cancer is increasing at an alarming rate due to a new viral HPV etiology? Unlike the historic cause, tobacco, young, non-smoking individuals are now the fastest growing segment of the oral cancer population. In our office we complete an oral cancer examination at every hygiene appointment. If you or someone you know has not had this bi-annual check-up, please join us for a free oral cancer screening on April 25 from 2-5 pm. The examination is informative...and painless. Free gifts for all who attend! Call 978 372-6800 to set up an appointment. For more information visit http://oralcancerfoundation.org .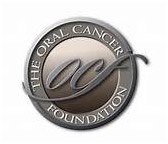 CPR Recertification – Annie, Annie, are you OK?
Once again our office participated in the American Red Cross CPR Re-certification Program for Health Professionals. All our employees are CPR Certified and our office has the required AED (automated external defibrillator) located in our reception area. Although we hope there is never an emergency, we encourage all our patients to learn this life saving skill.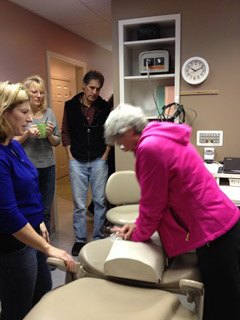 Habitat for Humanity
Our patient and friend, Dick Sumberg, is a long time supporter and sponsor of Merrimack Valley Habitat for Humanity. So when Dick asked the doctors to become involved with a couple of his projects with Habitat, they happily said yes. Merrimack Valley Habitat for Humanity was founded in 1985 and since that time has built 67 homes and rehabbed 7 homes in Lawrence and surrounding communities for people in need of safe, decent, affordable housing. Habitat sells the houses at cost, with no-interest mortgages, to low-income families who spend hundreds of hours helping to build their own or another Habitat house.
The current project is the former St. Patrick Convent at 100 Parker St. in Lawrence which will be converted into 10 units of affordable housing. A project of this magnitude requires immense amounts of volunteer time and lots of money ($1.5 million more or less) to buy materials and professional service. Merrimack Valley Habitat for Humanity still needs money to complete the fundraising. If you are inclined to make a contribution or volunteer, you can find information at www.merrimackvalleyhabitat.org.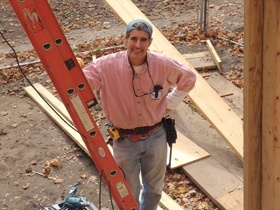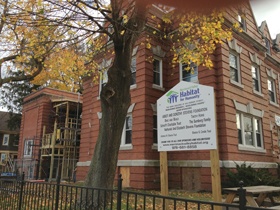 Lisa Cormier Celebrates 20 Years!
In September the doctors and staff surprised Lisa with a 20 year celebration recognizing her 20 year anniversary working at ADH! Lisa received anonymous phone calls from surprise guests and was required to correctly guess the caller's identity before their arrival. Past and present staff, friends, family, and some long time patients enjoyed dinner and laughs over tales from Lisa's past. Dr. Koleini is pleased to have a dedicated, loyal employee such as Lisa. Also recognized was Eileen Devlin for her 5 year anniversary as a dental hygienist in our office. The doctors love the tradition of celebrating staff's 5, 10, 15, and now 20 years of working in the office and look forward to our next anniversary.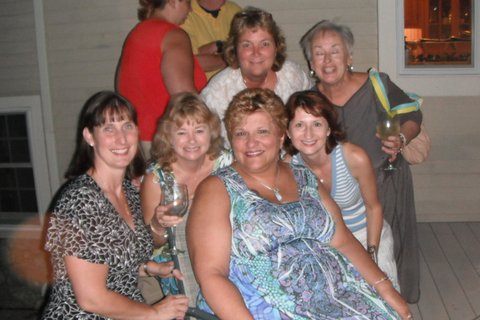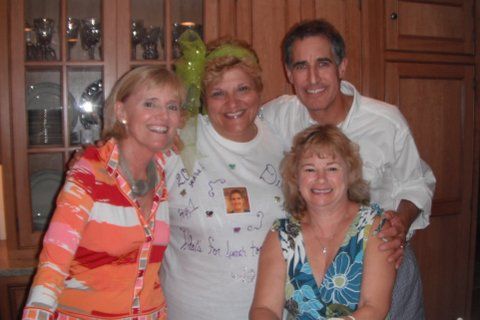 This summer when you come to the office you might notice a new face...ADH welcomes Meaghan Murray to our office for her 8 week student internship. Meaghan recently completed her first year at Boston University School of Dental Medicine. Meaghan may also be a familiar face as she has lived in Haverhill her whole life and has been a patient in our office since age 3. Who knows, she may even reverse her role in our office when she becomes a dentist as she hopes to return to Haverhill to begin her career as a dentist.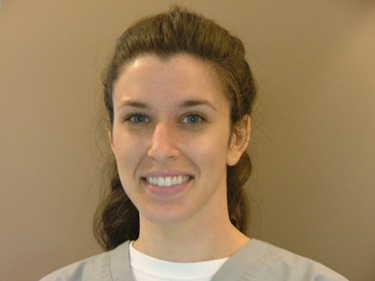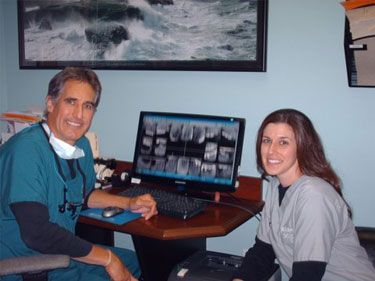 Marine Toys for Tots Campaign
This year our office once again participates in the Marine Toys For Tots Campaign by being a drop off site for all your unwrapped toys. The mission of the U.S. Marine Corps Reserve Toys for Tots Program is to collect new, unwrapped toys during October, November and December each year, and distribute those toys as Christmas gifts to needy children in the community. Our office welcomes and appreciates your donations.
Visit the Marine Toys for Tots Foundation.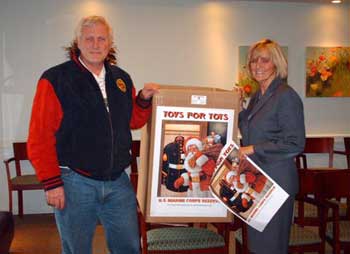 Our office team has once again created our annual Thanksgiving basket of goodies for a patient who has been having a difficult time over the past year and is in need of some holiday cheer. This year Maureen Kibit created two beautiful baskets filled with delicious treats including home made breads, jams, and pies made by our staff. Our staff especially enjoys this tradition.
Our doctors and staff wish everyone a Happy Thanksgiving.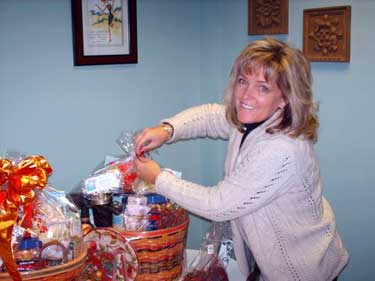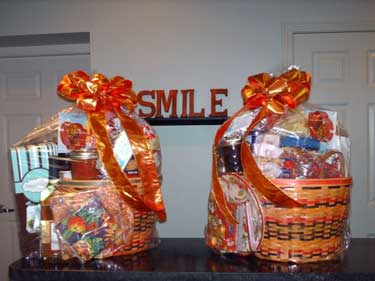 Fall into Health Open House
On Saturday October 2, 2010 our office sponsored a booth at the Fall Into Health Open House at the Merrimack Valley Hospital, organized by the hospital and Trinity EMS. Fun was had by all as our team of Lisa Cormier, Sally Clarenbach, and Maureen Kibit raffled off a complimentary custom bleaching treatment and dispensed toothbrushes, toothpaste, floss, water bottles and apples…nature's candy of course, to any and all who made an inquiry about our office. Many thanks to our existing patients who stopped by to say hello, and a sincere welcome to our future new patients.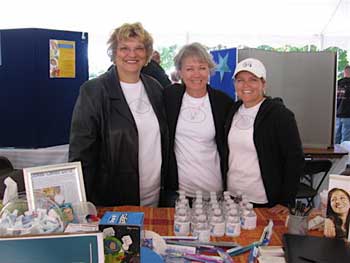 In recognition of Dental Health Month, The Bradford Elementary School participated in a contest sponsored by the dental office of Dr. Koleini. This year's theme was " Grin and Wear It: The Importance of Wearing Mouthguards for Sports ". Students were asked to think about why mouthguards are an important piece of protective gear, just like helmets, and pads. More than 5 million teeth are knocked out each year through sports injury, accident, or play.
Grin and Wear It is a program sponsored by the Massachusetts Dental Society to educate students, teachers, and parents on the need to wear a mouthguard. As the name implies, mouthguards help prevent injury to the mouth area, especially to the teeth, lips, cheeks, and tongue. Even athletes who use helmets or face masks should wear mouthguards since they also protect against head and neck injuries by cushioning blows that could otherwise cause concussions or jaw fractures.
The winner of the poster contest was Yael Schwartz, Grade 2, and the winner of the essay was Leah Maguire, Grade 5. The winners received a Barnes & Noble gift certificate, an electric toothbrush, and a sports mouthguard.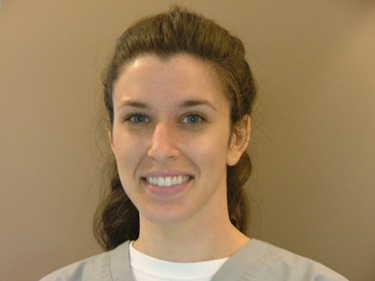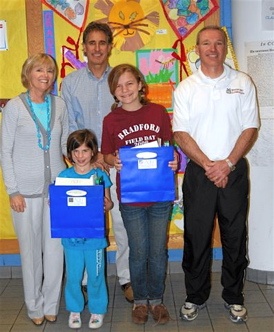 Dental Health Month
In recognition of February as Dental Health Month, The Bradford Elementary School recently participated in a contest sponsored by the dental office of Dr. Koleini. Students were asked to submit a poster or an essay displaying why soda is not good for them and what better choices can be made. The winner of the poster contest was Joshua Roy, grade 2, and the winner of the essay was Audrey Therriault, grade 4. The winners received a Barnes & Noble gift certificate, an electric toothbrush, and a water bottle for their healthy beverage of choice – water.
Canning Tooth Decay is a program sponsored by the Massachusetts Dental Society to educate students, teachers, and parents on the effects that too much soda can have on oral health. According to the Journal of Pediatrics, the average American child consumes approximately two 12-ounce cans of soft drinks per day. This amounts to 20 teaspoons of sugar each day – nearly twice the recommended limit children should have. Drinking soda three or more times a day increases the risk of dental cavities by 179 percent. This not only contributes to tooth decay but also to the ever-growing obesity problem in children in the United States.
It is not only soft drinks that are contributing to an increase in tooth decay. Nationwide, students are drinking more sports drinks and fruit juices, which also contain high concentrations of sugar. Additionally, any carbonated beverage, including carbonated water, will weaken, and may permanently destroy, enamel with repeated intake.
School officials and parents should decrease the availability of sugary beverages in schools and eliminate soda vending machines. Water and low-fat milk or fat-free milk should be available. As both Joshua Roy and Audrey Therriault suggested in their entries, "Drink water, it's a smart choice."