Emergency Dentistry – Haverhill, MA
We See Dental Emergencies Without Delay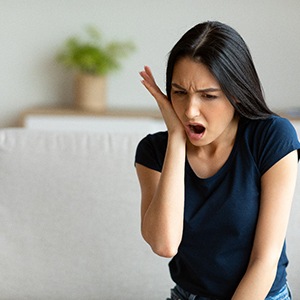 At Associates in Dental Health of Haverhill, we understand how frightening it can be to experience a serious dental injury or severe pain in the mouth without warning. That's why our capable emergency dentists in Haverhill strive to accommodate these urgent situations as quickly as possible - often even on the same day as the patient's initial contact. We can also provide guidance over the phone for how to best manage your symptoms until you're able to reach us – one of our dentists is always on-call! to provide emergency dentistry in Haverhill, MA
With over 30 years in business, we are well-equipped to handle a wide spectrum of dental emergencies with exceptional precision, from serious fractures to advanced infections. Plus, with three dentists on-staff who regularly collaborate to ensure the highest quality of care, you can rest assured that your smile is always in the best of hands. We'll never leave you waiting for days or weeks without relief – our team's goal is to relieve pain and start planning treatment right away so that patients can return to their regular routines in record time.
Please don't hesitate to contact us if you're in Haverhill, MA or the surrounding communities.
Why Choose
Associates in Dental Health of Haverhill for Emergency Dentistry?
Same-Day Appointments and Walk-Ins Available
Dentist Available in Evening and on Weekend
Modern Digital Technology for Added Comfort & Diagnostic Precision
How We Treat Your Dental Emergencies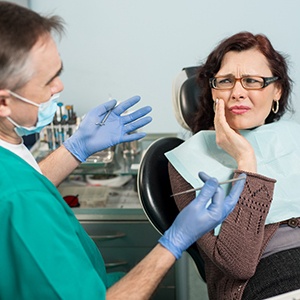 The moment you notice something doesn't feel quite right, we strongly encourage you to give us a call directly, even if you aren't particularly sure if what you're dealing with is a dental emergency. Not only is it better to be safe, rather than sorry, but we can provide you with useful tips to manage your urgent issue ahead of your appointment.
Associates in Dental Health of Haverhill accepts walk-ins, remains available in the evening and on the weekend, and does everything possible to get you seen the same day, so there's no reason not to call if you're concerned! When you arrive, we'll perform a detailed examination and capture X-rays to better understand your dental issue and confirm the source of the problem. We'll build a dedicated treatment plan from there, which could include dental fillings, root canal therapy, extractions, or another service depending on your specific needs.
The Most Common Dental Emergencies
When you find yourself in the midst of dealing with a dental emergency, it can be hard to make the best decision for your oral health because you may feel panicked or shocked. In these cases, we welcome you to lean on our team of professionals who is ready to answer your call and provide you with the fast and effective care you require. The good news is there are steps you can take to manage and improve your situation before you get to our dental office.
Understanding the Cost of Dental Emergencies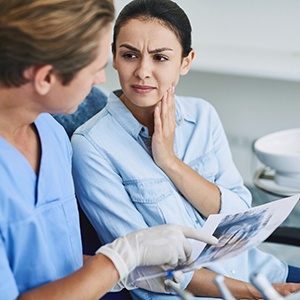 No one ever expects a dental emergency to happen to them, but it's more common than you might realize. If you find yourself in this unfortunate situation, you don't want to waste valuable time worrying about a large bill. We don't want to see finances stand in your way of restoring a healthy smile. Although there isn't a set fee for emergency care, we'll help you find the solutions you need to reinstate a healthy smile without breaking the bank.
What Influences the Cost of Emergency Care?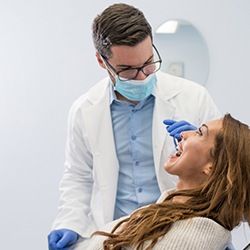 There isn't a set fee for emergency dentistry because the cost is based on several factors. As a result, you won't know how much you'll need to pay without first scheduling your consultation. When determining how much you'll pay, there are various things to consider, like:
Location: Dental offices in larger cities tend to have increased rates than those of small communities because there's a higher cost of living.
Dental Insurance: Although every policy differs, most dental insurance companies cover emergency care. We will work on your behalf with your insurance carrier to reduce your out-of-pocket expense.
Type of Treatment: The nature of your emergency and the treatment needed will influence the cost of care. Minor treatments are often less expensive than those that are more invasive, like a root canal.
Financial Options Available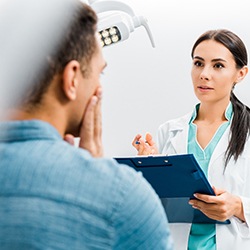 During your initial consultation with your dentist, we'll provide you with an estimate and explain the fees associated with your treatment. We will also discuss your payment options, like using your dental insurance. We are proud to be in-network with many leading PPO providers, including:
Delta Dental Premier
Cigna
BlueCross BlueShield Indemnity
We will file the necessary claims and paperwork, so you have one less thing to worry about. A member of our team will take the time to explain how your benefits are being used to pay for your treatment and if you owe a remaining balance.
We accept several payment options for any remaining balance. Besides traditional methods, we also accept third-party financing with CareCredit and LendingClub. Based on your credit's approval, you're given the funds you need to pay for your treatment. You'll then repay the balance using a payment plan that accommodates your budget.
How to Prevent Dental Emergencies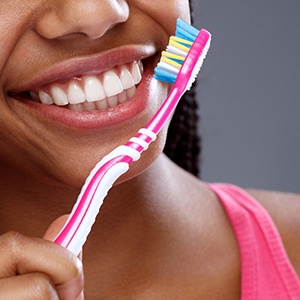 No one ever expects to need an emergency dentist, but sudden oral health complications are actually quite common. Although you might not think it will happen to you, it's best to be proactive about your smile to avoid unnecessary complications. Here are 4 ways you can help prevent an unplanned trip to your emergency dentist.
Visit Your Dentist Regularly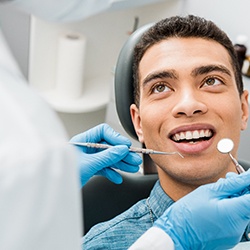 Besides your oral hygiene habits at home, it's equally important to visit your dentist at least twice a year for a cleaning and checkup. We'll remove harmful accumulations that can lead to decay and infection. We will also perform a comprehensive checkup to look for any areas of concern, like enamel erosion or inflamed gums. This allows us to treat the issue while it's still small to prevent it from turning into a bigger complication.
Maintain Good Oral Hygiene Habits at Home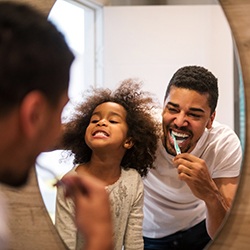 Your oral hygiene habits are your first line of defense against preventable issues that may lead to a dental emergency. It's best to brush your teeth at least twice a day using a soft-bristled toothbrush and fluoride toothpaste. Clean all surfaces of your teeth for at least 2 minutes. Don't forget to floss your teeth every night before going to bed.
Be Careful With Your Diet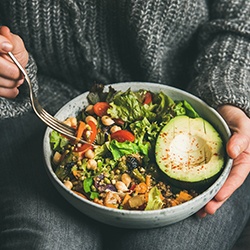 The foods you eat directly influence the health of your smile. It's best to consume a well-balanced diet that's limited in sweet treats. Sugars and starches contribute to tooth decay, so it's best to only eat sweets in moderation. If you give in to your sweet tooth, be sure to brush and floss your teeth well afterward.
Wear a Mouthguard/Nightguard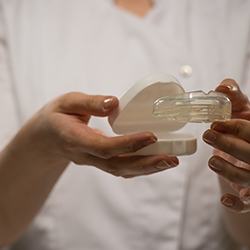 If you play sports, you have an increased risk of dental emergencies, like knocked out or broken teeth. Although you can't predict a traumatic injury, you can protect your teeth and oral structures using a custom-fit athletic mouthguard. Research shows this simple protective equipment not only saves your teeth and gums, but it can also lessen the severity of a concussion.
If you have a habit of grinding and clenching your teeth, you're placing your smile at risk of complications. The unnecessary pressure can lead to chips, fractures, and even loose teeth. A nightguard provides a protective barrier between your upper and lower teeth to prevent damaging your enamel.
Dental Emergency Frequently Asked Questions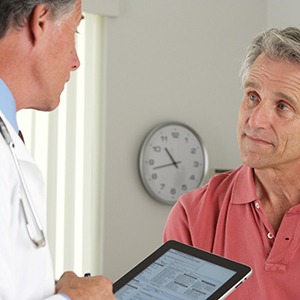 When you're dealing with a dental emergency, the last thing you want on top of all that is more confusion. You're already suffering through pain and possibly a damaged tooth, so adding confusion to that list just worsens the whole situation. That's why we've created this list of some of our most frequently asked questions about dental emergencies and answered them below for your convenience.
When Should I Go to the E.R. vs. the Dentist?
If you're experiencing any of the following situations, it's best to contact us right away:
Knocked-out tooth
Loose teeth
Severe toothache
Lost crown or filling
Broken or chipped tooth
While the staff at your local ER are medical professionals, they don't have the specialized training that our dentists do to handle specific dental situations like these. However, if you're dealing with a more serious problem like a broken or dislocated jaw, severe bleeding, or swelling that affects your ability to breathe, then you should definitely go to the hospital instead of our dental office.
How Can I Manage the Pain?
Depending on your individual pain tolerance, you may need something to soothe your discomfort until you can reach our dental office, like:
Topical pain reliever like Orajel
Over-the-counter pain medications like Tylenol
Ice pack to reduce both pain and swelling
However, just because you are able to temporarily manage your pain does not mean you don't need to come in for an emergency appointment. If you're dealing with pain severe enough to warrant taking medication, then you absolutely need to schedule an appointment with us.
Why Should I Have a Dental Emergency Treated Right Away?
If you're not careful, not treating a dental emergency soon enough can result in even worse problems down the road. When you have a dental emergency, it's always best to err on the side of caution and have your problem checked out by us sooner rather than later to avoid your situation worsening.
Leaving your dental emergency untreated could result in an infection that spreads to other teeth, your gums, or even other parts of your body. When it reaches this point, you may end up needing a root canal or even a tooth extraction to save your oral health. If your tooth was knocked-out, you need to get it replaced as soon as possible to avoid bone loss or shifting of your remaining teeth.
What If I Have a Dental Emergency While Traveling?
Before you start panicking, find a dentist in the area who can treat the immediate problem. That way you can still enjoy the rest of your vacation with family and friends free of dental pain. After that, go ahead and call us to schedule an appointment for when you return. This will allow us to thoroughly examine the area to determine whether any further treatment is necessary.
Are knocked-out baby teeth a dental emergency?
While baby teeth are supposed to come out, it is possible for them to come out too soon. If your child's tooth comes out naturally, do not try and put it back into the open socket. If your child experienced a dental injury that knocked out their baby tooth too soon, call our office. We want to ensure your child's permanent tooth does not erupt too soon. If bleeding does not stop or you fear they may have an injured jaw, go to the emergency room first.
Will my toothache go away on its own?
Toothaches will typically not go away on their own once they have appeared. That's why it's best to schedule a checkup with our office if you experience one. With so many potential causes for a toothache, we want to determine exactly what's causing your symptoms. When you arrive, we can rule them out as well as provide a dedicated treatment plan. Ideally, we can prevent your issue from worsening, leading to higher oral healthcare costs anyway.
Do chipped teeth heal?
Enamel is incredibly tough. In fact, it's the hardest substance in the human body. However, it's not like other organic substances in that it cannot heal itself. If your tooth is chipped, it will not grow back no matter how minor or severe the damage. The only way to restore your tooth is through restorative or cosmetic dentistry, such as a dental filling, crown, or veneer.
Is my tooth pain from an infection?
A tooth that feels sore or is throbbing, it very well may be an infection. Other common symptoms include a bitter taste in your mouth, chronic bad breath, tooth sensitivity, red or swollen gums, loosening tooth, or a draining sore on the gums surrounding the tooth. If these symptoms appear, do not wait to call our office immediately. When you visit our office, we can capture X-rays and provide a detailed diagnosis for the cause of your tooth pain.