Porcelain Veneers – Haverhill, MA
Transform Your Smile's Appearance For the Better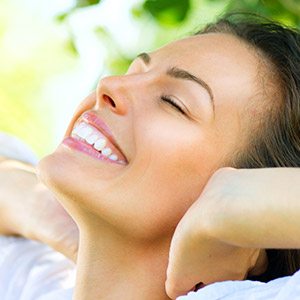 If your teeth don't have the attractive glow they used to because of frustrating imperfections, our dentists at Associates in Dental Health of Haverhill may have the perfect solution – porcelain veneers. Veneers were originally designed to benefit Hollywood actors, but today, countless people have relied on them to achieve truly beautiful smiles in record time. Please contact our dental office today if you'd like to schedule a cosmetic consultation and learn more about porcelain veneers from our Haverhill, MA cosmetic dentist.
Why Choose
Associates in Dental Health of Haverhill for Porcelain Veneers?
Attractive, Durable Metal-Free Materials
Personalized Smile Makeover Plans
Dentistry With Cooperative Care
What Are Dental Veneers?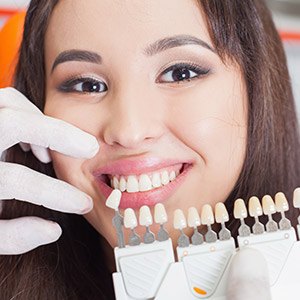 One of the most popular cosmetic dental treatments on the market, veneers are crafted from thin shells of high-quality porcelain. When applied to the front-facing surface of your teeth, they can conceal a wide variety of imperfections, including:
Stains/discoloration
Cracks or chips in the enamel
Gaps between teeth
Misaligned teeth
Misshapen dental structure
The Process of Getting Porcelain Veneers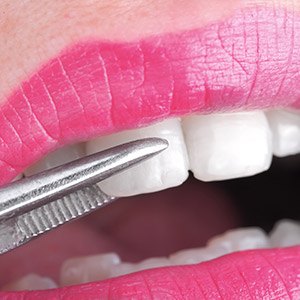 In most cases, the creation of porcelain veneers will only require two appointments. After learning all about your dental needs and smile goals, our cosmetic dentists in Haverhill will conservatively adjust the tooth surfaces. Next, they will capture digital impressions, which will be sent to our trusted dental laboratory. While they are hard at work meticulously crafting your permanent veneers, we will provide you with temporary ones. Then, once we receive the finished veneer from our trusted dental laboratory, any last-minute tweaks will be made to ensure your full satisfaction before the veneer is securely attached in place.
The Benefits of Porcelain Veneers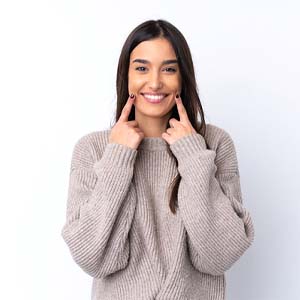 There is a reason veneers in Haverhill have been popular for decades: they come with a wide range of benefits! Here are a few notable ones:
Versatility – Veneers can correct everything from minor misalignment to permanent discoloration.
Quick turnaround – The entire process, from start to finish, can be completed in as little as two appointments.
Longevity – With the right best practices in place, veneers can last for 15+ years.
Customization – Depending on your smile goals, the results can look as natural or dramatic as you'd like.
Easy maintenance – Veneers are stain-resistant, cavity-resilient, and easy to clean.
Understanding the Cost of Porcelain Veneers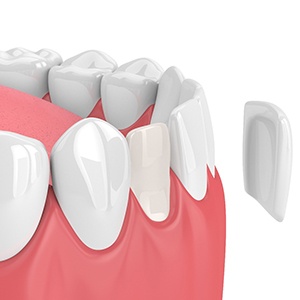 If you're ready to improve your smile, it's normal to be concerned about the cost of veneers in Haverhill; however, don't let the expense deter you from improving your smile. They are more affordable than you might realize. Although there are many discounted options, you don't want to cut corners when shopping for veneers. There are several factors that influence the amount you will need to pay. Here's what you can expect when budgeting for your picture-perfect smile.
Learn More About About the Cost of Veneers
Cost VS Cosmetic Dentistry: What's Right for Me?
Everyone's needs and expectations are unique when choosing to invest in cosmetic dentistry, like veneers. The cost of your plan is largely based on your individualized needs, such as the number of teeth you're treating and the complexity of your case. Your cosmetic dentist in Haverhill will perform a thorough consultation and discuss your goals to create a personalized strategy. Veneers in Haverhill can often be used as an alternative to many common treatments, such as:
Braces: Braces are a great solution to better your smile. You can fix a variety of bite and alignment issues using a cost-effective solution, like closing gaps between the front teeth. The price can vary considerably, and you'll need to commit to wearing them for 18 to 24 months.
Teeth Whitening: Professional whitening systems are a great way to get your teeth several shades whiter to reveal a brighter smile. It can significantly improve stains and discoloration, but it won't change the proportion or shape of your teeth,
Direct Bonding: A composite resin material is an inexpensive and effective way to fix minor aesthetic issues, like chips and cracks. While it's affordable upfront, it will need to be replaced every few years.
Veneers: A veneer enhances the overall color, size, and shape of a tooth. They may not be the cheapest option, but they can correct several concerns using just one treatment. Not to mention, they can last for decades with the right aftercare.
How to Make Veneers Affordable
Dental insurance plans offer comprehensive coverage at reduced rates. Unfortunately, it's rare for an insurance policy to pay for veneers because they are considered elective. If applicable, we'll help you maximize your insurance benefits. If you can't use your coverage, there are several ways to keep a celebrity smile within your budget, including:
Financing Options: Besides traditional methods, our dental office accepts financing plans. Based on your credit's approval, you're given the funds you need. You'll repay the balance using a plan that accommodates your budget, so you don't need to worry about your new smile draining your wallet.
If you're ready to love the smile you see in the mirror, you might be a candidate for veneers. Contact our dental office today to schedule your consultation for cosmetic dentistry. We'll help you achieve a beautiful smile using a personalized treatment. We'll provide you with a custom estimate and explain your payment options to turn your dream smile into a reality.
Porcelain Veneers Frequently Asked Questions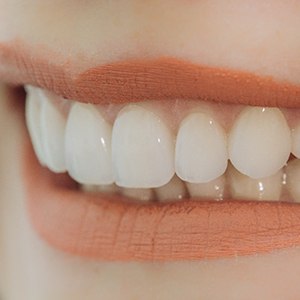 If you're looking to enhance your smile, veneers may be the answer. However, investing in your smile is a huge decision, so it's important that you are well informed. Here are the answers to some of the most common inquiries we receive about veneers in Haverhill. If you don't see the information that you're looking for below, give us a call! We'd be more than happy to answer your questions and get you started with an initial consultation.
Are Veneers Permanent?
Veneers are not technically permanent because they will eventually need to be replaced. However, they are considered to be irreversible. To ensure that veneers fit properly on the teeth, small amounts of protective enamel need to be filed away. Since removed enamel does not grow back, teeth that have been prepared in this way will always need to be covered with either veneers or crowns.
Will I Still Be Able to Drink Coffee with Veneers?
Veneers that are made from porcelain are stain resistant. This is because porcelain is a nonporous material, so the particles in dark-colored foods and beverages have a harder time slipping beneath the surface. Ultimately, you should be able to drink your morning coffee without worrying about stains. However, you should note that veneers are not stain-proof. Excessive consumption of dark colored beverages can still have a negative impact over time.
How Many Veneers Will I Need?
The goal of veneers is for all of your visible teeth to match, so you will receive an appropriate number of veneers to accomplish that goal. While some people opt for one veneer to cover a single pesky tooth, others could end up getting anywhere from 6 to 12 to completely transform their smile. It all depends on your unique case.
Can You Whiten Veneers?
Whitening procedures don't have any effect on veneers, even if they have been stained. You will need to have them either replaced or shaded instead. Whitening will still affect teeth around veneers, so undergoing the treatment can result in an uneven tone throughout your smile. If you are planning to have both whitening and veneers done, you should start out with teeth whitening. Afterwards, your veneers can be color matched to your teeth for a perfectly symmetrical smile.
Doo Veneers Feel Like Real Teeth?
Many patients report that veneers feel completely natural inside their mouth, and they don't even notice them when they are eating or speaking. This is because veneers are carefully crafted to fit perfectly on your teeth based on impressions that are taken after a small sliver of enamel has been removed. That preparation process prevents the veneers from feeling or appearing bulky. Porcelain is also very smooth, so it will not irritate the soft tissues in the mouth.