Porcelain Veneers – Bradford, MA
Transform Your Smile's Appearance For the Better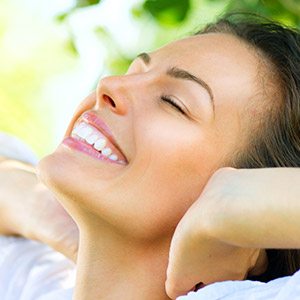 If your teeth don't have the attractive glow they used to because of frustrating imperfections, our dentists at Associates in Dental Health may have the perfect solution – porcelain veneers. Veneers were originally designed to benefit Hollywood actors, but today, countless people have relied on them to achieve truly beautiful smiles in record time. Please contact our Bradford, MA dental office today if you'd like to schedule a cosmetic consultation and learn more about whether this service fits your particular goals.
Why Choose
Associates in Dental Health for Porcelain Veneers?
Attractive, Durable Metal-Free Materials
Personalized Smile Makeover Plans
Dentistry With Cooperative Care
What Kinds of Problems Can Porcelain Veneers Fix?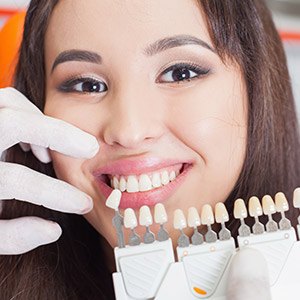 Porcelain veneers are often an ideal cosmetic service for patients who want to correct multiple imperfections at once instead of having to undergo numerous services. They can be used to correct the following concerns:
Stains/discoloration
Cracks or chips in the enamel
Gaps between teeth
Misaligned teeth
Misshapen dental structure
Teeth that are too long, too short, too large, etc.
How Do Porcelain Veneers Work?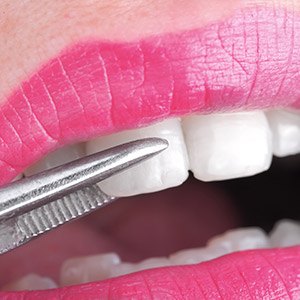 Porcelain veneers are custom-made, tooth-shaped shells that are designed to be extremely thin in nature. While dental crowns cover a natural tooth's entire shape, this cosmetic alternative is designed to fit over just the visible surfaces. Once in place, the result will be beautiful while also appearing 100% natural and allowing for normal oral function. The high-quality porcelain used is extremely durable and even resists staining better than original tooth enamel!
In most cases, the creation of porcelain veneers will only require two appointments. First, our dentists will conservatively adjust the tooth surfaces in preparation and capture digital impressions before placing a temporary veneer. Then, once we receive the finished veneer from our trusted dental laboratory, any last-minute tweaks will be made to ensure the patient's full satisfaction before the veneer is securely attached in place.
Understanding the Cost of Veneers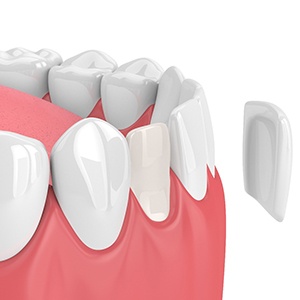 If you're ready to improve your smile, it's normal to be concerned about the cost of veneers in Bradford; however, don't let the expense deter you from improving your smile. They are more affordable than you might realize. Although there are many discounted options, you don't want to cut corners when shopping for veneers. There are several factors that influence the amount you will need to pay. Here's what you can expect when budgeting for your picture-perfect smile.
Learn More About About the Cost of Veneers
Cost VS Cosmetic Dentistry: What's Right for Me?
Everyone's needs and expectations are unique when choosing to invest in cosmetic dentistry, like veneers. The cost of your plan is largely based on your individualized needs, such as the number of teeth you're treating and the complexity of your case. Your cosmetic dentist in Bradford will perform a thorough consultation and discuss your goals to create a personalized strategy. Veneers in Bradford can often be used as an alternative to many common treatments, such as:
Braces: Braces are a great solution to better your smile. You can fix a variety of bite and alignment issues using a cost-effective solution, like closing gaps between the front teeth. The price can vary considerably, and you'll need to commit to wearing them for 18 to 24 months.
Teeth Whitening: Professional whitening systems are a great way to get your teeth several shades whiter to reveal a brighter smile. It can significantly improve stains and discoloration, but it won't change the proportion or shape of your teeth,
Direct Bonding: A composite resin material is an inexpensive and effective way to fix minor aesthetic issues, like chips and cracks. While it's affordable upfront, it will need to be replaced every few years.
Veneers: A veneer enhances the overall color, size, and shape of a tooth. They may not be the cheapest option, but they can correct several concerns using just one treatment. Not to mention, they can last for decades with the right aftercare.
How to Make Veneers Affordable
Dental insurance plans offer comprehensive coverage at reduced rates. Unfortunately, it's rare for an insurance policy to pay for veneers because they are considered elective. If applicable, we'll help you maximize your insurance benefits. If you can't use your coverage, there are several ways to keep a celebrity smile within your budget, including:
Financing Options: Besides traditional methods, our office accepts financing plans. Based on your credit's approval, you're given the funds you need. You'll repay the balance using a plan that accommodates your budget, so you don't need to worry about your new smile draining your wallet.
If you're ready to love the smile you see in the mirror, you might be a candidate for veneers. Contact our office today to schedule your consultation for cosmetic dentistry. We'll help you achieve a beautiful smile using a personalized treatment. We'll provide you with a custom estimate and explain your payment options to turn your dream smile into a reality.