Dental Implants – Bradford, MA
Experience A State-of-the-Art Solution to Tooth Loss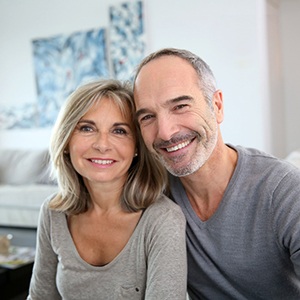 In today's world, dental implants are the premier solution for rebuilding missing teeth. Why? Because unlike more traditional options like dentures and bridges, implants take a comprehensive approach to reconstruction, starting with a root that's safely hidden underneath the gum tissue and jaw. With a new "tooth root" in place, the patient's health and oral function are much better preserved, and the new addition has the support it needs to thrive for decades or even the rest of a patient's life. If you'd like to learn more about the transformative power of implants or see if they're the best option for your smile, contact Associates in Dental Health today.
Why Choose
Associates in Dental Health for Dental Implants?
Dental Implant Surgery & Restoration in One Office
Highly Experienced Dentists & Staff
State-of-the-Art Cone Beam for Precision
Benefits of Dental Implants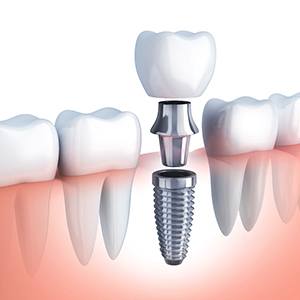 Jawbone deterioration is a real concern following the loss of natural teeth because the root, which provided vital stimulation, is gone. Dental implants successfully prevent this gradual process by creating a new, seamlessly lifelike "root" in its place that offers essential stability and support.
Dental implants have an average success rate of over 98%, and their longevity is truly unmatched. In fact, many patients are able to enjoy them for the rest of their lives without issue.
Dental implants don't require the remaining natural dental structure to be significantly reduced in any way for accommodation, which is a much better outcome for the patient's overall oral health and wellbeing.
Once fully restored, implant-retained teeth are virtually indistinguishable from natural ones when it comes to aesthetics, overall feel, and function. After some time has passed, a patient may not even be able to successfully point it out in the mirror.
Indications for Dental Implants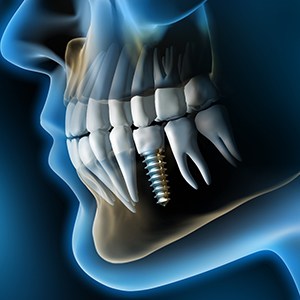 If you're wondering whether or not dental implants are right for your unique smile, rest assured that patients with a wide spectrum of tooth loss can benefit from this modern service. We'll pair your implants with a customized restoration that will be designed depending on the number of teeth being replenished.
Missing One Tooth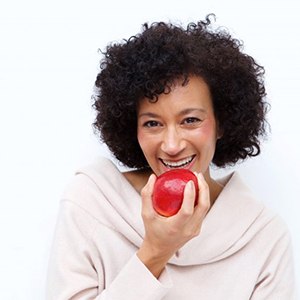 When rebuilding a single tooth, we can connect an individual implant to an all-ceramic dental crown. This new, painstakingly customized crown will be able to fit right in alongside natural teeth without negatively affecting their continuing wellbeing, which is ideal for the patient.
Learn More About Single Tooth Implants
Missing Multiple Teeth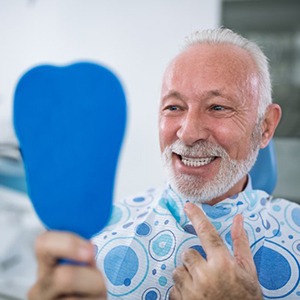 While implant-retained dental crowns can also be successfully placed over multiple implants throughout the mouth, our dentists may also recommend an implant-retained bridge if a patient has multiple gaps that appear together in a row. Unlike a traditional dental bridge, this modern prosthetic is securely attached to two dental implants that appear on either side of the space, providing a sturdy base that allows the bridge to function in a healthy, reliable manner.
Missing All of Your Teeth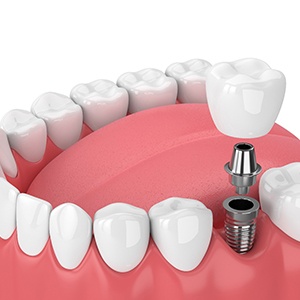 If a large number of natural teeth are now gone, implant-retained dentures are available to provide comprehensive coverage at a cost-effective price. Instead of allocating one implant per missing tooth, which can quickly become unnecessarily expensive, this style of prosthetic can be successfully anchored with a small number of strategically placed dental implants. Additionally, All-On-4 prosthetics are available for patients who've lost an entire row of teeth, which is held in place with – you guessed it – just four implants in most cases.
Start to Finish Convenience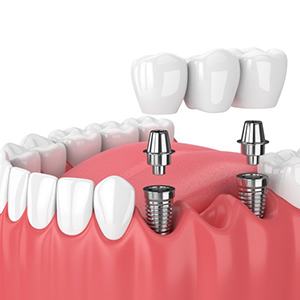 While many other general dentistry practices throughout the greater Bradford community need to refer their patients to outside specialists for the surgical portion of dental implant care, Associates in Dental Health has the advanced skills and technology needed to take you from the beginning of treatment to the end in the same location. There are several benefits to this comprehensive approach – not only does the patient save travel-related time and money, but their procedural comfort is also improved because they're able to remain with a team they already know and trust.
Understanding the Cost of Dental Implants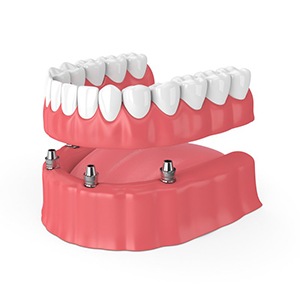 Estimating the cost of dental implants is a complicated question because the procedure itself has several components to it, including the number of implants needed to successfully reverse the patient's tooth loss, whether abutments (connectors) must be attached, and the chosen style of restoration.
Additionally, every patient's oral health situation and personal preferences are unique. That's why scheduling an initial consultation here in Bradford, MA is so important. After evaluating your mouth and discussing your goals, our dentists can determine a much more confident treatment plan and precise estimate for the overall cost.
We do ask patients to keep in mind that while dental implants may seem like a significant financial investment, the benefits are numerous and lifelong. While more traditional services are likely to require costly repairs over their lifespans (thus negating their initial lower price), implant-retained teeth are designed to stand the test of time.