All-On-4 Dental Implants – Haverhill, MA
Secure Your Denture with Dental Implants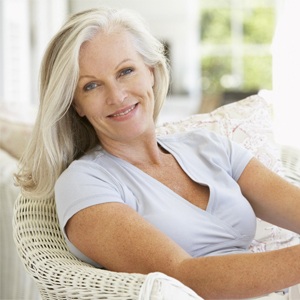 Every tooth you lose significantly changes your daily life and lowers your self-esteem. If you have lost all your teeth, it can be impossible to chew many foods or speak clearly. Not to mention, you might hide your mouth when smiling because you are insecure about your appearance. You likely tried a traditional denture to replace your missing teeth, but it never felt natural. Now, you can enjoy the next best thing to your real teeth with dental implants in Haverhill. You can say goodbye to slipping and irritation permanently with All-On-4 dental implants from our Haverhill, MA dentist.
How Do All-On-4 Dental Implants Work?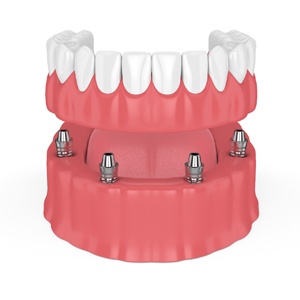 New advancements in dentistry allow a conventional full denture to look and feel more realistic than ever. An impression of your mouth is used to create an acrylic base, which is held in place using suction or an adhesive. Although the latest innovations have improved their fit, they will never truly feel natural.
Now, you can secure your denture to your jawbone using 4 strategically placed dental implant posts. They act as new roots to stimulate new bone growth in your jaw. Your jaw fuses to the posts to provide unmatched stability for your denture.
Am I a Candidate for All-On-4 Dental Implants?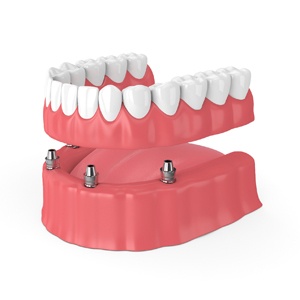 The long-term success of dental implants relies on your jawbone's ability to fuse to the posts and remaining infection-free. Your dentist in Haverhill conducts a comprehensive consultation to evaluate your oral health. Besides a visual exam, a CT scan is also needed to assess the density of your jawbone and to pinpoint the ideal location for the posts. In addition to your oral health, your medical and lifestyle history are also discussed to ensure there are minimal risk factors for implant failure.
What Are the Benefits of All-On-4 Dental Implants?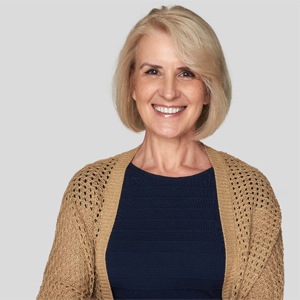 Replacing both the roots and crown of the tooth using dental implants allows you to enjoy several advantages with All-On-4 that is not possible with a traditional denture, including:
Over a 95% 10-year success rate to last for several decades.
High-quality material makes your denture look natural.
Preserves your jaw's density by promoting new growth.
Supports your facial structures to prevent premature wrinkles.
Restores 70% of your biting force to maintain a balanced diet.
Long-term, cost-effective solution.
Easy maintenance and care.
All-On-4 VS Traditional Dental Implants
The process to receive traditional dentures requires a multi-phased treatment, which often includes additional procedures like bone grafting. After your implant posts are placed into your jaw, you must wait several months for your bone to heal. This is a process called osseointegration. After you have healed, you need a second surgery to attach abutments to connect dental crowns.
All-On-4 provides a simpler approach. The implant posts are placed into the thickest parts of your jaw. As a result, this can often eliminate the need for bone grafting. Often, we can fit you with a temporary denture the same day as your placement surgery. You will not need to go without your teeth while you heal.
You can discover the next best thing to what nature gave you with dental implants. Contact our dental office today to see if All-On-4 is right for you.