Tooth Extractions – Haverhill, MA
Safely Performed with Modern Techniques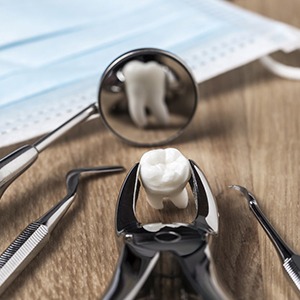 No dentist will ever make a tooth extraction in Haverhill the first choice. Sometimes, however, a tooth is already beyond the point where fillings, dental crowns or root canal therapy can help. At Associates in Dental Health of Haverhill, we'll use the digital technology and modern tools at our disposal to make sure tooth extractions in our Haverhill, MA dental office are performed as comfortably as possible; we can also use oral conscious sedation if desired. When you're experiencing a dental emergency, you can count on us to handle it efficiently and effectively.
Why Do I Need a Tooth Extraction?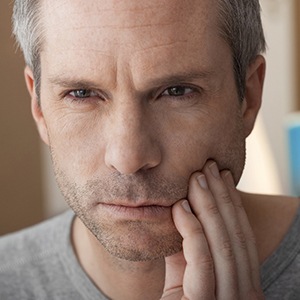 Oftentimes a patient's wisdom teeth will need to be removed in order to prevent damage to the other teeth as well as additional complications. In other cases, an extraction will be the last resort to avoid further dental health problems. Reasons for extraction can include:
Excessive tooth decay that can't be reversed
Advanced gum disease
Severe physical damage
A baby tooth that has stayed too long and is preventing adult teeth from developing properly
Making room for necessary orthodontic treatment
We will examine the overall health of your mouth and make sure we understand the situation as fully as possible before moving forward with a tooth extraction.
The Tooth Extraction Process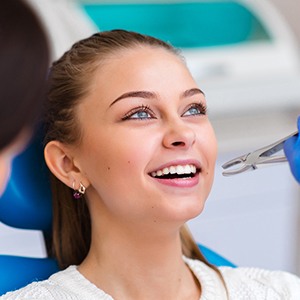 Before planning the procedure, we'll take an X-ray of your tooth. We'll also need to know your medical history; be sure to tell us about any medications, over-the-counter drugs, vitamins and supplements you're taking. Antibiotics might be used if you're suffering from certain medical conditions, such as an impaired immune system.
We'll give you some instructions to follow before the procedure; for example, in some cases we might ask you not to eat or drink anything for a certain amount of time. If you catch a cold the night before, you might need to reschedule.
There are two kinds of extraction: simple and surgical. A simple extraction involves the use of an elevator and some forceps to loosen and remove the tooth. A surgical extraction will require a small incision in the gums so that we can access the root of the tooth; we might also need to remove a little bone. Sometimes a particularly weak tooth will be easier to remove in pieces rather than as a whole.
After the Procedure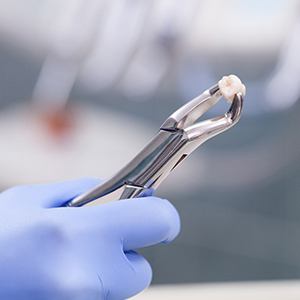 It can take a few days to recover after having a tooth removed. Ice packs can be used for 10 minutes at a time to reduce any swelling. Painkillers may be prescribed. Don't go back to your regular routine right away; for the first 24 hours, you should limit physical activity and eat only soft foods such as yogurt and applesauce. Avoid drinking through a straw, and do not smoke while your mouth is still recovering.
After the first full day, you can rinse with eight ounces of warm water mixed with a teaspoon to reduce your risk of infection. Gradually reintroduce more solid foods into your diet. If the pain doesn't subside after several days, or if you notice symptoms such as fever or pus from the incision, call us as soon as possible.
Tooth Extractions FAQs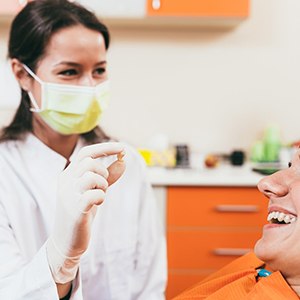 Since tooth extractions aren't typically as routine as treatments like checkups or fillings, it's natural for patients to have questions about this procedure. As always, our team is available to provide the specific answers you're looking for at your initial appointment or, in some cases, over the phone. However, we know that some patients really value being able to do their research online first. For this reason, we've responded to a few of the most frequently asked questions about tooth extractions in Haverhill below.
Does Getting a Tooth Pulled Hurt?
Before the procedure, your mouth will be numbed with a local anesthetic by our dentist. It will help you feel comfortable during the extraction, and you shouldn't feel any pain at all! However, expect some soreness and discomfort in the first few days following the extraction. You can easily manage your symptoms by diligently following the aftercare instructions you were given. Taking proper care of your mouth after extraction will not only promote faster healing but lower your risk of infection. If your pain worsens or you begin to exhibit other symptoms like developing a fever, contact our office right away for assistance.
How Should I Prepare for My Tooth Extraction?
Preparing for your tooth extraction is just as important as taking the right steps for recovery after the procedure. Before your extraction, we'll answer any questions you have and explain how you can prep for your appointment. Our team here at Associates in Dental Health of Haverhill will provide you with specific instructions like only drinking water or picking up prescription medication. Make sure you have arrangements for someone to drive you home after the appointment since you'll likely receive local or general anesthesia.
What's the Recovery for Tooth Extractions Like?
Once the procedure is complete, your emergency dentist in Haverhill will give you a list of aftercare instructions. These are designed to help you prevent infection and heal comfortably. Some of the most important best practices are getting plenty of rest, keeping your mouth clean, sticking to soft foods, not spitting, and refraining from tobacco use. To keep discomfort at bay, you can place a cold compress against the outside of your cheek for 10 minutes at a time and take over-the-counter pain relievers as instructed. Around the three-day mark, you should begin to feel better.
What Are My Options for Replacing a Missing Tooth?
Filling the gap in your smile following a tooth extraction is essential for both appearance and function. For this reason, we will recommend a dental bridge, dentures, or dental implants. While dental bridges can replace 1-4 teeth, they need to be in a single row for this tooth-replacement solution. Partial and full dentures are a tried-and-true choice that can address moderate or severe tooth loss but cannot stimulate your jawbone to prevent bone loss. Fortunately, dental implants can effectively replace one, a few, or an entire arch of teeth. Since the implant posts are inserted directly into the jawbone, they are incredibly lifelike, extremely stable, and able to last for 20-plus years with proper care.