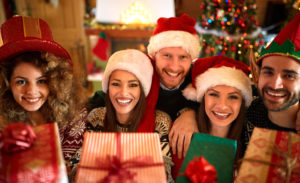 While children dread getting coal in their stockings if they have been naughty, adults know they should be more afraid of getting something else during the holidays: cavities! The cheerful season is often laden with Christmas cookies and other sweet treats that can contribute to tooth decay if proper precautions are not taken. But don't worry, we've got your back. Here are 5 tips from a dentist in Haverhill on how to survive the holiday season with a healthy smile.
#1: Eat Sweets with Your Meals
If you can't abstain from sweets entirely – which is unlikely! – you should at least try to consume candy, cookies and other sweets along with your meal rather than snacking throughout the day. When you eat an entire meal, your body naturally produces more saliva, which helps wash away sugar and tiny food particles away from your teeth.
#2: Drink Plenty of Water
Try to go easy on the eggnog and instead drink plenty of water. Water helps clean the mouth and wash away food particles while also keeping your gums hydrated. In addition, water helps produce saliva that deposits essential minerals that build tooth enamel, the protective outer layer of teeth.
#3: Choose Healthier Snacks
Christmas cookies, candy canes, chocolate and other treats high in sugar can all increase your risk of tooth decay. Try to opt for healthier snacks that are better for your teeth, such as:
#4: Be a Smart Traveler
Make a travel dental care kit and pack it before organizing your clothes and everything else so you don't forget. A travel dental care kit should include the following:
Toothbrush
Travel-sized fluoride toothpaste
Dental floss
Travel-sized mouthwash
#5: Practice Proper Oral Hygiene
Of course, practicing excellent oral hygiene is just as important – if not more – during a season filled with holiday parties. The American Dental Association and any dentist in Haverhill would recommend brushing twice and flossing daily. However, how you brush is also very important. Here are some tips for the best brushing technique.
Opt for a soft-bristled toothpaste
Hold your brush at a 45-degree angle
Brush for a full two minutes each time, taking care to brush the inside, outside and chewing surfaces of your teeth.
Don't forget to brush your tongue as well!
May your holiday season be filled with peace, joy and the company of family, friends and loves ones – not with anxiety about your dental health. Just follow the 5 tips above to stay smiling throughout the end-of-year festivities!
About the Author
From routine family care to complex restorative treatment, the highly-skilled dentists at Associates in Dental Health combine their knowledge and expertise to service all the dental care needs for the residents of Haverhill. Patients old and new can make an appointment by visiting the Associates in Dental Health website or calling 978-372-6800.