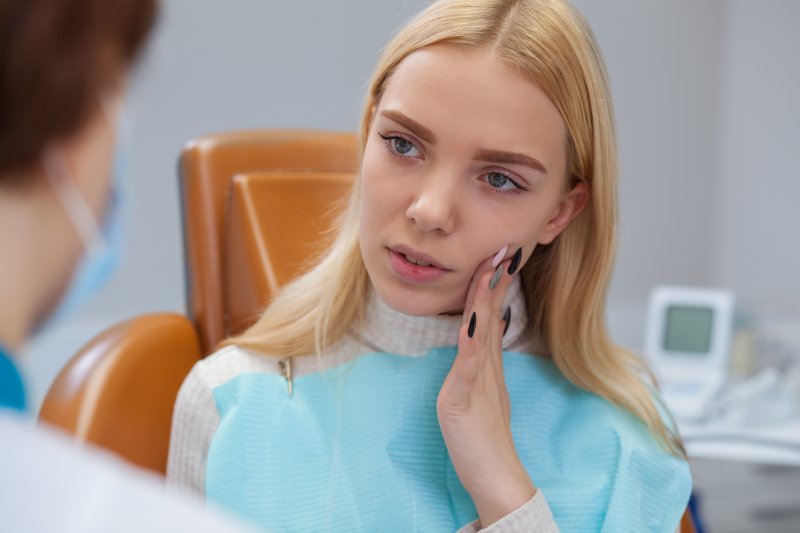 OUCH! Your at-home movie night instantly screeches to a holt as your teeth come down hard on an unpopped popcorn kernel. Immediately, you feel a surge of pain in your tooth and one thought becomes immediately clear: you need to see your emergency dentist. It is only after the function and aesthetic of your smile is restored that you begin to think about the cost. After all, does dental insurance even cover urgent dental care? Read on for the answer!
Types of Dental Insurance Plans
To better understand what you can expect to pay should a dental emergency arise, you must first consider the type of plan you have. The three most common types are:
Preferred Provider Organization (PPO): If you have a PPO plan, you have the option to visit a dentist both in and out of your provider's network. However, you will generally have lower out-of-pocket costs by sticking with a practice that is in-network.
Dental Health Maintenance Organization (DHMO): In contrast, DHMO plans require you to visit a dentist that your provider has approved of. Seeking care outside of that list may result in no coverage.
Discount dental plants: These programs provide you with a pre-negotiated rate you can expect to pay by getting dental care from a select group of dental practices. While you don't get any of your services covered, you do get a discount on the care you do receive.
Emergency Dental Care: What's Covered, What's Not
If you have a PPO or DHMO plan and have available benefits, then it is important to know that at least a portion of your emergency visit may be covered. For example, while the replacement for a knocked-out tooth may not be covered, the diagnostic care (like the X-rays) might be. On the other hand, while you'll likely be responsible for paying for a portion of the cost of root canal therapy, your dental insurance carrier may cover 50% of the cost of the dental crown needed to restore your affected tooth.
How Your Dentist Can Help
Amid a dental injury, especially a painful one, the last thing you want to worry about is cost. Fortunately, your dentist and their team can help you navigate which financial option makes the most sense for your wallet as well. If you want to take advantage of your benefits, they can handle all the paperwork for you and maximize your coverage. That way, you can just sit back and save! If you don't have a dental plan, they can help break up the cost of even the most extensive treatment into manageable, monthly chunks through CareCredit. That way, you can restore your pain-free smile without the stress.
About the Practice
Our team at Associates in Dental Health is proud to offer a comprehensive array of dental services all under one roof. So, whether you need help restoring one affected tooth or an entire arch of teeth, Dr. Koleini, Dr. Riedell, and Dr. Stewart can leap into action! Plus, we are in-network with Delta Dental Premier, Cigna, and BlueCross BlueShield Indemnity and welcome low-to-no interest financing through CareCredit and LendingClub. To learn more about utilizing your benefits or the financial options available to you, visit our website or give us a call at 978-372-6800.